Wednesday, October 13th, 2010
Driscoll's, the leading provider of fresh berries, unveiled a new logo and label design that will be used throughout all areas of sales and marketing. The new look will begin to hit the U.S. market within the next few weeks.
The new brand identity will be incorporated in various brand communications from labels on individual clamshells, to the trays used to ship the clamshells as well as signage at the company's headquarters. The new brand identity will unify and strengthen the look of Driscoll's destination Berry Patch displays in retail stores.
The company tapped San Francisco-based Michael Osborne Design for the task. Osborne and his team retained key brand and label design touch points, such as the familiar triangle shaped label, and the vibrant yellow and green background colors, while restructuring messaging in a hierarchical fashion on the labels. The new label also incorporates an illustration, created by Steven Noble, of a farmer in a field of berries and most important, berries overflowing in a basket.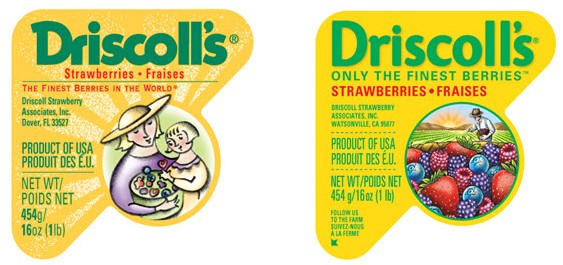 "This is the evolution of this brand," said Douglas Ronan, VP Marketing at Driscoll's. "The Driscoll's brand is one of the most recognized brands in the produce industry. Our heritage is in strawberries. Now, by using all four berries on our package, we are reinforcing our leadership position in fresh berries while highlighting the special efforts of our farmers."